Air Conditioning Repair in Cerritos, CA
You won't be left in the heat when you chose Hoffman Heating & Air for your air conditioning repair in Cerritos, CA. Hoffman Heating & Air will quickly diagnose the problem and have your air conditioning system running again. We'll always arrange the most convenient time for you.
We repair all brands of air conditioners & ductless mini splits.
Air Conditioning Service You Can Count On
Regardless of what type of air conditioning problem you have, Hoffman Heating & Air will get it fixed right, and fast. Not only do we repair all types of air conditioners, we offer AC services for maintenance & installation.
Repair Any AC Make or Model
Hoffman Heating & Air has the tools, training and experience to quickly and reliably repair any make or model of air conditioning system that your Cerritos home may have.
Our HVAC technicians are trained to diagnose and repair all brands of central air conditioners and heat pumps, whether we installed them or not. We maintain an extensive stock of parts, and most commonly needed parts are always in our AC service vehicles.
Air Conditioning Replacement
When you decide on a air conditioning replacement in Cerritos, it is our job to find the right air conditioner for your home and your budget. Using information about your home like the square footage and number and size of windows, we will determine the best size product for your property. A unit that is either too large or too small will end up costing you in the long run because it will not run as efficiently and will deteriorate more quickly.
Air Conditioner Experts
We are fully-licensed and insured for all your air conditioning needs in Cerritos, CA and you can be sure the technician that answers your call will be a fully-qualified, air conditioner expert.
Get your air conditioner repaired in Cerritos today!
Call the AC repair experts at Hoffman Heating & Air.
Briana K. - Los Angeles, CA
I was referred to Dan Hoffman by my contractor/handyman after interviewing several HVAC companies to install a complete system in a troublesome older home. When Dan came out I just knew he was our guy. He actually had creative solutions and work arounds, he clearly knew his stuff. After having several companies say they couldn't find a way and others refusing to take the job due to limited attic space it was such a relief to meet someone who was up for the challenge! We just got our HVAC installed this week and couldn't be happier with his crew and their hard work. They installed our system during the hottest week of the year (we are talking 100+) and they worked long days with no complaints and smiles on their faces. They were courteous, helpful and hard working. They even went above and beyond and fixed an electrical problem that came up to due to no fault of their own. Dan's crew even cleaned up after themselves, they truly were some of the best house guests we've ever entertained! Thank you to Dan, Steven, Cody and our tall attic dweller friend who's name I forgot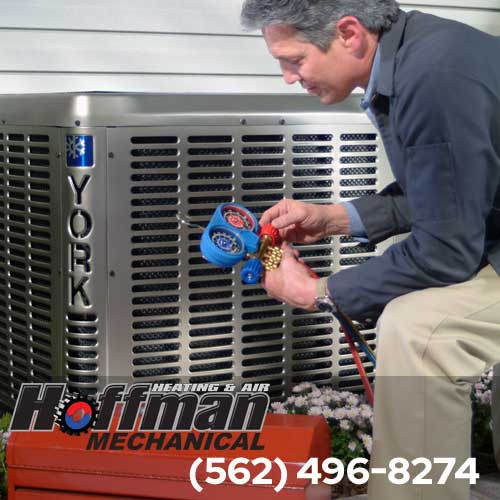 Air Conditioning Repair in Cerritos, CA.