Mini Splits in Bellflower, CA
Hoffman Heating & Air installs Samsung ductless air conditioning products. The Samsung ductless products are high quality and energy efficient. Ductless mini-split air conditioners are a good choice if you want a zoned air conditioning system but have no ducts in your house. The main advantages of mini splits are their small size and flexibility for zoning or heating and cooling individual rooms. Many models can have as many as four indoor air handling units (for four zones or rooms) connected to one outdoor unit. The number depends on how much heating or cooling is required for the building or each zone (which in turn is affected by how well the building is insulated). Each of the zones will have its own thermostat, so you only need to condition that space when it is occupied, saving energy and money.
In Bellflower, experience superior cooling with Samsung mini split air conditioners. Enjoy precise temperature control, energy efficiency, and quiet operation for ultimate comfort. Choose Hoffman Heating & Air for quality cooling solutions.
Ductless Mini-Split Installation in Bellflower
Looking for a ductless mini split installation in Bellflower? Look no further than Hoffman Heating & Air! Our team of experienced HVAC technicians has been providing top-quality installation services to homeowners and businesses throughout Bellflower and the surrounding areas for many years.
We understand that every customer has unique needs and preferences when it comes to cooling their space. That's why we offer a wide variety of ductless mini split systems to choose from, each with its own set of features and benefits. Whether you need a system to cool a single room or multiple zones, we can help you select the perfect solution for your needs and budget.
Our technicians are highly trained and equipped with the latest tools and technology to ensure a fast, efficient installation process. We take great care to ensure that your new system is installed correctly, and we always leave your property clean and tidy after the job is complete.
In addition to our installation services, we also offer maintenance and repair services to keep your system running smoothly for years to come. So if you're looking for a ductless mini split AC installation in Bellflower, look no further than Hoffman Heating & Air! Contact us today to schedule a consultation with one of our experts.
Heating & Air Conditioning Services in Bellflower
Hoffman Heating & Air is the HVAC contractor that you can count on in Bellflower, CA. We provide residents and commercial customers in Bellflower the best air conditioning and heating service that you can count on! Our experienced HVAC technicians and service reps understand that each customer situation is unique. We recommend heating & air conditioning solutions that meet your specific requirements, and specialize in environmentally friendly HVAC products.
Furnace installation
When the nights turn cold, it's not the time to have your furnace acting up! Hoffman Heating & Air is here to ensure you stay warm during the winter months. Our HVAC technicians are able to service and repair any brand of furnace or heat pump, and if you are looking for a new system, we offer heating equipment which boast some of the highest efficiency ratings in the industry! Ask us for an estimate for furnace installation in Bellflower.
Hoffman Heating & Air is your expert heating contractor, specializing in heating equipment for residences and businesses in Bellflower, CA.
Furnace Repair in Bellflower
Facing furnace troubles in Bellflower? Count on Hoffman Heating & Air for efficient furnace repair. Our certified technicians provide timely and transparent services tailored to Bellflower's unique heating needs. From diagnostics to thermostat repairs, we've got you covered. Schedule your furnace repair with us for reliable HVAC solutions in Bellflower.
Air Conditioning Services
Sure we some great weather but if you live in a new tightly sealed home with two stories, it can get hot! When the summer months heat up your home, you need a reliable and efficient air conditioner keeping you cool. We install, repair & provide seasonal tune-ups for air conditioners that have high SEER ratings for more efficient cooling and lower monthly utility bills.
AC Repair in Bellflower
If you're in Bellflower, CA and your AC system is malfunctioning or not working properly, don't suffer in the heat. Trust the experts at Hoffman Heating & Air for reliable and efficient AC repair in Bellflower. Our experienced technicians are trained to diagnose and repair all makes and models of AC systems, so you can enjoy the comfort of a properly functioning AC unit. From repairs to routine maintenance, our team will provide you with the best service possible. Contact us today to schedule your AC repair appointment in Bellflower, CA.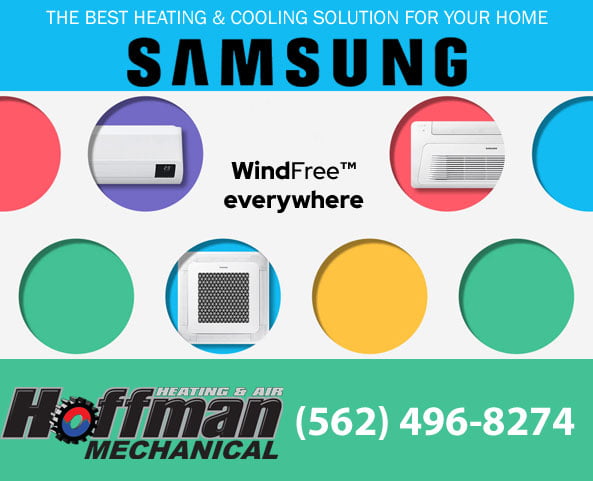 Heating & Air Conditioning in Bellflower, CA.