Air Conditioning, Heating & Ductless Mini Splits in Lakewood, CA
Hoffman Heating & Air is offers air conditioning and heating repair & installation in Lakewood, CA and surrounding areas. We are a heating and cooling company that is dedicated to excellence in our service, and we install York air conditioning, heating and indoor air quality products.
Over the years, Hoffman Heating & Air  has become a trusted heating and AC company known for our quality repairs and installations. Our technicians make every effort to perform our work as cleanly as possible.
Stay comfortably cool in Lakewood with Samsung mini split air conditioners. These advanced cooling systems provide precise temperature control, energy efficiency, and quiet operation. At Hoffman Heating & Air, we offer reliable Samsung mini split AC installation in Lakewood, ensuring a cool indoor environment for your home or business.
Samsung Ductless Air Conditioning Installation
Ductless mini split heat pumps (mini splits) from Hoffman Heating & Air are a great choice for homes or businesses in Lakewood, CA with non-ducted HVAC systems, portable or window air conditioners. They can also be a good choice for room additions, where extending or installing duct work isn't possible. Get a free estimate for a ductless mini split installation!
Mini Split Installation
If you're looking for a more economical heating & cooling solution than a standard HVAC system, a mini-split system is just what you need. Samsung ductless systems offers benefits like lower energy costs, quiet operation & multi zoning options. Ask us how a Samsung mini split installation can provide your home or business energy efficient cooling.
Heating Service in Lakewood, CA
If you are looking for furnace repair, maintenance or installation, in Lakewood, contact Hoffman Heating & Air. We offer heating repair services, as well as preventive maintenance and annual tune – ups. Do you want to save energy and lower your heating bills? Call one of our Lakewood heating experts to help you choose an energy efficient furnace or heat pump for your home. We offer free estimates on new heating installations and cost saving consultations. We are proud to provide comprehensive heating services that can help to improve overall home efficiency and reduce energy bills.
Air Conditioning Services
At Hoffman Heating & Air Heating, our air conditioning services include installing quality air conditioners in Lakewood, and we can help you choose a new air conditioning system made by York, a brand we trust. If you are looking to save energy, our Lakewood air conditioning specialists offer installations for many different high efficiency AC systems. We offer air conditioning repair, replacement and regular tune–up services that will help extend the life of your air conditioning system. We service & repair all types of air conditioning systems, heat pumps, ductless mini split air conditioners, zone control, thermostats, and more!
Indoor Air Quality Products and Services
Having a good indoor air quality system helps reduce pollutants inside. We install whole – home indoor air quality systems, such as air purifiers, air filters, humidifiers, dehumidifiers, and UV germicidal lights. Call our Lakewood indoor air quality technicians to take care of all your air quality needs.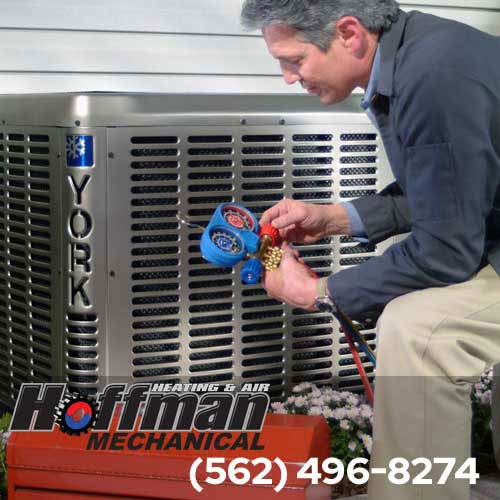 Heating & Air Conditioning Service in Lakewood, CA.