Mini Split Installation in Lakewood, CA
When it comes to mini split installation in Lakewood, Hoffman Heating & Air is your trusted partner. Our team of HVAC professionals is dedicated to providing exceptional cooling and heating solutions for residential and commercial spaces. With our expertise and commitment to customer satisfaction, you can expect a seamless installation process and optimal performance.
Authorized Samsung Brand Solutions
At Hoffman Heating & Air, we are proud to be authorized dealers of Samsung, a renowned brand in the HVAC industry. Samsung's mini split systems offer advanced technology and energy-efficient features, ensuring superior comfort and cost savings. By choosing us, you gain access to top-notch Samsung products and the expertise to install them seamlessly in your Lakewood property.
Skilled Technicians for Flawless Installations
Our team consists of highly skilled and certified technicians who specialize in mini split Installation. With years of experience and in-depth knowledge of HVAC systems, they ensure a flawless installation process. From assessing your space to determining the ideal placement and configuration, our experts pay attention to every detail to guarantee optimal performance and longevity of your mini split system.
Customized Solutions for Your Unique Needs
Every space has unique requirements, and we understand the importance of a tailored approach. At Hoffman Heating & Air, we provide customized solutions for mini split Installation in Lakewood. Our experts carefully evaluate your property, taking into account factors such as size, layout, and specific cooling and heating needs. Based on this assessment, we recommend the most suitable Samsung mini split system to deliver efficient and personalized comfort.
Reliable HVAC Services from Hoffman Heating & Air
When you choose Hoffman Heating & Air for your mini split Installation in Lakewood, you gain a trusted partner for all your HVAC needs. We offer reliable and professional services, backed by our commitment to customer satisfaction. From installation to maintenance and repairs, our team is dedicated to ensuring your complete comfort and peace of mind.
Contact Hoffman Heating & Air Today!
Experience the benefits of a Samsung mini split system installed by the experts at Hoffman Heating & Air. Contact us today to schedule your mini split Installation in Lakewood. Our friendly and knowledgeable team is ready to assist you and provide the highest level of HVAC service. Trust Hoffman Heating & Air for all your cooling and heating needs in Lakewood.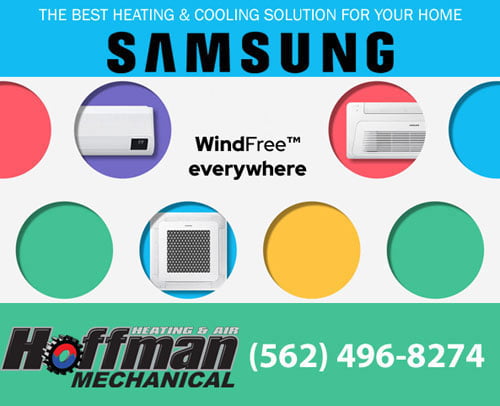 For Mini Split Installation in Lakewood, CA