Air Conditioning, Heating & Ductless Mini Splits in Downey, CA
Hoffman Heating & Air provides HVAC services in Downey, CA. Our air conditioning and heating technicians are highly skilled and provide exceptional customer service to both our residential and commercial clients. Ask us about Samsung ductless mini split installation. We have the experience to provide quality HVAC repair & installation in Downey.
Experience exceptional cooling with Samsung mini split air conditioners in Downey. These advanced cooling systems offer precise temperature control, energy efficiency, and quiet operation. Trust Hoffman Heating & Air for quality mini split AC installation, ensuring your home or business stays comfortably cool.
Ductless Mini-Split Installation in Downey
Ductless mini-splits are perfect in a home or business. Ductless air conditioners operate like a conventional heat pump. Instead of a large unit cooling your home, a smaller unit can cool individual rooms or zones. Because ductless air conditioners are small there is more flexibility for the installation. In addition, each zone has its own thermostat letting you control the areas that need to be cooled.
Get an estimate for ductless air conditioning installation in Downey!
Discover Samsung Ductless
Samsung ductless mini split air conditioner and heat pump systems are ideal for homeowners. When only a single room of the house needs to be cooled or heated, you now have a simple solution. Along with a quick, noninvasive install process, they provide plenty of advantages like high efficiency, low noise, and total control.
Whole Home Ductless Solution
By connecting multiple indoor units to a single outdoor unit, Samsung multi-zone systems provide a flexible, whole home solution, that a conventional system simply can't rival. Instead of setting one temperature for the entire house, zoning a home with a multi-zone system allows you to control the areas where you spend the most time and turn off other to save energy.
Heating Service
Hoffman Heating & Air is also your expert Downey Heating Contractor, specializing in heating equipment for residences and businesses in the Downey area. Although Southern California has some of the finest weather in the nation, it is not so temperate that home heating has become unnecessary. Don't wait until the coldest months of the year to have your furnace and heating system checked! We provide maintenance and service all year long to keep your HVAC equipment running in its peak condition, so it is ready to provide maximum efficiency when you need it.
Furnace Repair in Downey, CA
If you need fast reliable furnace repair in Downey, CA, call Hoffman Heating & Air. We provide furnace and heating equipment repair to get your home warm again, quickly. We can repair all brands of heating equipment.
Furnace Replacement & Installation
The price of replacing or installing a furnace can be expensive. But even though furnace replacement costs can be high, depending on the situation a customer could save more in the long run going with a total replacement instead of repairing the unit repeatedly.
Get an estimate for furnace installation in Downey.
Furnace Maintenance
Maintenance is something that most homeowners often overlook. Regular furnace and system maintenance is important. As recommended by the EPA, seasonal tune-ups will increase energy efficiency and cost savings. Hoffman Heating & Air we can help extend the life of your furnace and heating system to the fullest, avoiding replacement until it is truly necessary.
Air Conditioning Service in Downey
Call us today and we'll give your air conditioning unit a thorough inspection and a speedy solution to restore your home to comfortable temperatures. In most cases, a simple AC repair in Downey, CA can be done quickly and affordable. When you need air conditioning installation, we will provide you with all of your options, so that you can choose the best air conditioning unit for your home in Downey.
AC Repair in Downey
If you require air conditioning repair in Downey, you can trust Hoffman Heating & Air to provide exceptional customer service and fast response times. Our team is equipped to repair all brands of air conditioning equipment, ensuring that your cooling system is restored promptly. With our reliable air conditioning service, a certified and skilled AC repair technician will be dispatched to your Downey home, promptly diagnosing and fixing any cooling issues. We strive to have your air conditioning up and running again on the same day. When in need of AC repair services in Downey, contact the trusted cooling experts at Hoffman Heating & Air.
Air Conditioning Installation, Repair & Maintenance
Hoffman Heating & Air provides air conditioning services in Downey. Our HVAC technicians will keep your cooling and heating systems in peak condition. We install, repair and provide maintenance service for all makes and models of heat pumps and air conditioners to keep you comfortable all summer long. We provide air conditioning installation in Downey. We also provide repair, maintenance and tune-ups of all major brands.
Air Conditioning Contractor
Hoffman Heating & Air is your expert Downey Cooling Contractor, and our services include maintenance, repair, sales and installation.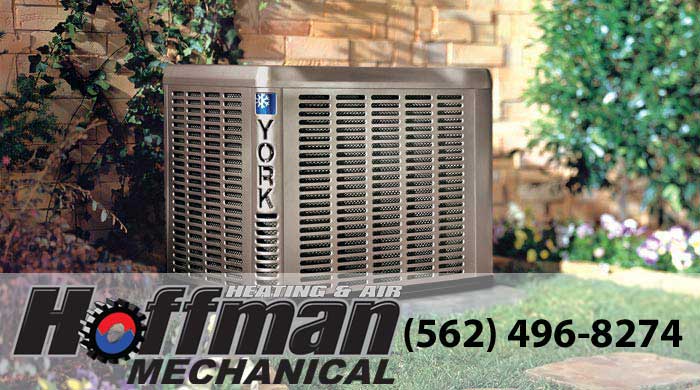 HVAC & Mini Split Service in Downey, CA