Air Conditioning Repair in Downey, CA
Having trouble with your air conditioner? Call Hoffman Heating & Air for air conditioning repair in Downey, CA. Don't wait until your air conditioning system goes out and has to be replaced. Having it serviced before it fails can save you from spending a lot of money and having to deal with an overheated house!
If your cooling system is outdated or has been showing signs of failure, schedule a repair or maintenance check to keep your appliance in working order. Hoffman Heating & Air offers AC repair in Downey, CA to ensure your home or business is always taken care of.
With years of experience and training in cooling systems, our knowledgeable technicians are skilled at working on all types of air conditioning units, no matter how old. Experts in diagnostics, we'll quickly find the issue, fixing it without delay. We arrive in well-stocked trucks, complete with any service parts that we may need to repair the cooling problem. When you need AC repair in Downey, call Hoffman Heating & Air!
Air Conditioning Replacement & Installation
The purchase & installation a new air conditioning system should not be a frustrating experience. Hoffman Heating & Air's professional air conditioning installation contractors in Downey will provide you with all of the information you will need to make the best choice for you and your family. We will install an air conditioning system designed for your needs, with maximum efficiency, at a price you are comfortable with. Hoffman Heating & Air performs all installations to the manufacturer's standards to ensure an accurate SEER rating and proper airflow.
AC Maintenance in Downey, CA
A well-maintained air conditioning system may not be a requirement for your home, but it is a something that most homeowners in the Downey would not want to live without. On the warm days of the year, the AC system will keep you and your loved ones cool and comfortable inside the home, and this can even promote your safety and well-being on the hottest days.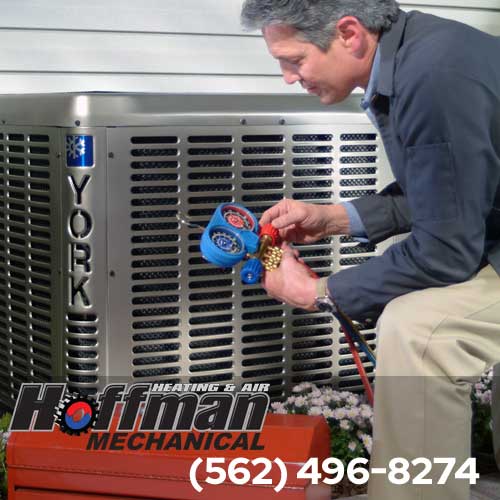 Air Conditioning Repair in Downey, CA.