YORK® Thermostats & Controls
Simplify Your Life While Saving Energy
Easy-to-use, programmable thermostats from YORK® provide convenient heating and cooling control at your fingertips. And our innovative Hx™3 Communicating Zoning System allows you to heat or cool up to eight different areas of your home separately, providing the ultimate in comfort and efficiency. With advanced features and seamless integration, YORK® thermostats and controls can help save money while providing greater comfort.
Complete Control at Your Fingertips
Programmable thermostats are proven to enhance HVAC system efficiency and lower utility costs. Access and monitor your system from your home thermostat touch-screen with voice control, using Amazon Alexa, or from a smart device, using your phone, tablet or Apple Watch®. Plus, optional service alerts and remote dealer access ensure your system provides years of reliable comfort.
Call Hoffman Heating & Air at (562) 496-8274
Enhanced features include wireless voice command using Amazon Alexa and remote access and monitoring via a smart device, including Apple Watch®.
Programmable thermostats are proven to increase heating and cooling efficiency and reduce energy costs.
5-year Parts Limited Warranty and enhanced features, including service alerts and remote dealer access, offer peace of mind for years to come.
Thermostat and controls installation by Hoffman Heating & Air 's Heating & Air Conditioning ensures optimal performance and seamless integration.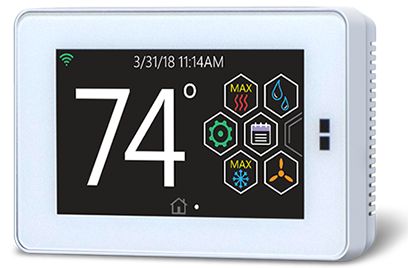 Take complete control of your HVAC system at home or on-the-go.