Air Conditioning, Heating & Ductless Mini Splits in Los Alamitos, CA
Hoffman Heating & Air is experienced in handling a wide range of HVAC installation, AC repair & ductless mini split services in Los Alamitos. Only the highest quality parts and heating and air conditioning equipment will be used to fix your system. You are the most important person in our business, and our company was built with you in mind.
Mini Split Installation in Los Alamitos
Are you looking for professional mini-split installation in Los Alamitos, CA? Look no further than our trusted team of experts. At Hoffman, we specialize in efficient and reliable mini-split installation to ensure optimal comfort in your home or office. Our skilled technicians have years of experience in handling mini-split systems and will provide a seamless installation process. Whether you need a new installation or a replacement, we offer customized solutions tailored to your specific needs. Trust us to deliver top-quality service and exceptional results for your mini-split installation in Los Alamitos, CA. Contact us today to schedule a consultation and take the first step towards a more comfortable indoor environment.
Heating Services
When it comes to heating systems, Hoffman Heating & Air has the skills & knowledge to provide you with the best heating services. As most homeowners know, a replacement or repair to a major appliance is normally unexpected, and often unavoidable. Our service technicians have years of experience with furnace repair for all brands in Los Alamitos, CA. So, when you call our office in need of a furnace repair or furnace replacement, you'll know you are in good hands.
Furnace Replacement & Installation in Los Alamitos
The price of replacing a furnace or heating system can be expensive. But even though furnace replacement costs can be high, depending on the situation a customer could save more in the long run going with a total replacement instead of repairing the unit repeatedly. Get a free estimate for a furnace installation in Los Alamitos, CA.
Furnace Repair
There are few things more troublesome than a broken furnace on a cold day. Hoffman Heating & Air provides furnace repair in Los Alamitos, CA to get your home warm again, quickly. We service all brands of furnace and heating equipment.
Air Conditioning Services in Los Alamitos, CA
You want your home to stay comfortable, but the need to accomplish that goal efficiently is becoming more and more important. New awareness to the impact we are having on our environment combined with the rising costs of utility bills has elevated the pursuit of efficient HVAC solutions. We can quickly repair your air conditioner and provide maintenance to keep it running all summer. We can also provide you with information about ductless air conditioning.
Hoffman Heating & Air leads the way as a Los Alamitos air conditioning, heating and indoor air quality contractor known for a high level of technical expertise and customer service! From highly efficient split heating and cooling to indoor air quality products that can purify your indoor air. Hoffman Heating & Air listens to the needs of our customers, and we deliver solutions on time and within budget that are a perfect match for their needs!
Air Conditioning Installation
You might be surprised how many homeowners opt for cost savings on a new heating and cooling system only to spend much more money because the installation was not done correctly. Your home HVAC system is a huge investment that merits serious consideration before spending valuable money on the wrong thing. Hoffman Heating & Air is a Los Alamitos air conditioning contractor you can trust from start to finish. We'll analyze your home and specific needs, and then perform proper design build and finally equipment installation. The process will be stress free, resulting in a cooling system that will be reliable and efficient. Call us today for advice you can count on.
Seasonal Maintenance & AC Repair
Nobody wants to wake up on a hot Summer day in the valley to find that their air conditioner is not functioning properly! Neglecting seasonal maintenance on your air conditioner, heat pump or gas furnace will result in lost efficiency, and can eventually require pricey repairs. Seasonal maintenance is an easy, low cost way to ensure that your HVAC system is running like it was designed to! If you do need repair, Hoffman Heating & Air provides fast, HVAC repair services for any type of equipment! We will quickly assess your equipment, determine the problem, and perform the required HVAC repair quickly.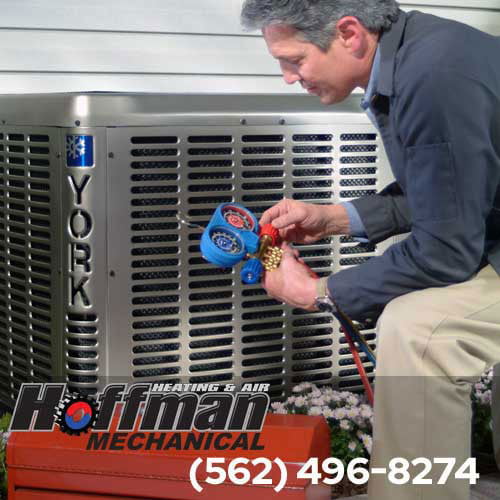 Heating & Air Conditioning Service in Los Alamitos, CA.