Mini Split Installation in Los Alamitos
When selecting an air conditioner for your home, it is important that you choose one that meets the specific needs of your family. That is why you need a professional technician to size your home for the right type of mini split system. We recommend Samsung's line of ductless split air conditioners because of the variety of configurations and sizes they offer. This is a major factor when having your system installed.
With the heat of summer and humidity to go with it, your home would be  unbearable without a quality air conditioner. But not every Los Alamitos home is suited for a central air conditioning system. Some do not have the ductwork or the space to install the ductwork these systems require.
That is why Hoffman Heating & Air offers a full range of Samsung ductless mini split air conditioner installation services. For homes that cannot support a full central system, these systems offer an affordable and energy efficient alternative.
How Ductless Mini Split Air Conditioners Work
Ductless mini split air conditioners are a perfect fit for many reasons. Here is a rundown of how they work and why they are a good fit for so many people.
A ductless system has a central outdoor unit that contains the compressor. This unit is connected by refrigerant tubes to smaller units installed inside your home. Instead of a ductwork system moving air between an indoor air handler and the registers in your home, this tubing moves coolant. Indoor units can be placed in up to 4 rooms (sometimes 8 depending on the system you purchase).
Each of these indoor units has its own thermostat and can cool the area according to your needs. So, not only does a ductless mini split system offer a solution for those homes with limited space, it allows you to only supply cooling to the areas that currently need it.
Ductless Mini Split AC Repair & Maintenance in Los Alamitos
Like any air conditioning system, it is important that you have your ductless mini split air conditioning system maintained on an annual basis. Without regular maintenance, your system will quickly fall into disarray. That can result in a number of problems like inefficient heating, or an excessive need for repairs. Our expert AC technicians will diagnose any rising issues and provide the tune–up services necessary to keep your system in top shape throughout the year.
For larger issues, call the experts at Hoffman Heating & Air for immediate ductless AC repair. Our technicians will determine the best repairs that will keep your system running in top shape. When you are in need of air conditioning repair service in Los Alamitos do not hesitate to call Hoffman Heating & Air .
If you need a new air conditioner and your home is not suitable for ductwork installation, Samsung ductless mini split air conditioning may be the solution. Call Hoffman Heating & Air today to learn more about our mini split air conditioning installation services and to setup a consultation and cooling load calculation today.
We are all committed to seeing every project through from start to finish where communication and commitment to the highest standard is a relentless pursuit. The result is the finest in workmanship.
Trust the Experienced HVAC Experts of Los Alamitos
Our Hoffman Heating & Air technicians are here to assist you in regulating your heating and cooling temperatures within your home or business.
If you are looking for heating or cooling, mechanical or services for your home or business in Los Alamitos, contact us today to schedule a service.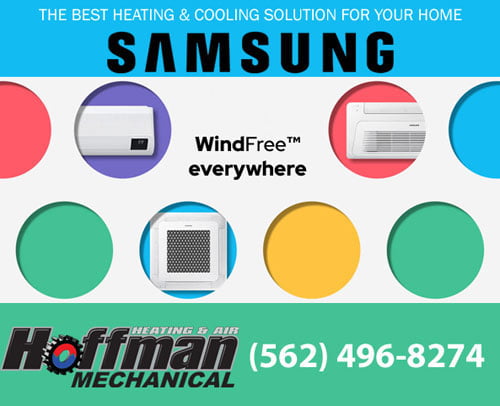 For Mini Split Installation Los Alamitos