Furnace Installation in Downey, CA
When you need a furnace installation in Downey, CA, you can trust Hoffman Heating & Air to get the job done. Installing your furnace just right the first time around isn't a job for an amateur. Many factors must be taken into consideration, and you also need the right tools and experience for the job.
At Hoffman Heating & Air, our technicians are fully trained to install furnace systems of all types. We've had years of experience working with furnaces and we have continuous education to improve on our already-advanced skills.
Professional Heating Installation
Deciding which type of heating system you want in your home is a major decision. A new furnace or heat pump can cost thousands of dollars. Hoffman Heating & Air understands how stressful a new heating installation can feel. That's why we try to make the process as simple as possible for our customers. Every heating installation includes great guarantees.
When you hire us to complete your heating installation, we'll work to ensure your system fits perfectly in your home. We'll take numerous factors into account, including heating load calculations, to do this. No matter your heating needs, we carry a furnace or a heat pump that will meet them efficiently.
Heating Repair and Maintenance
You want your home heating system to keep you comfortable when it's gets cold. For this reason, it's important to schedule regular heating repair and maintenance service in to make sure your heating system is working at peak performance. Annual tune-ups keep your home's heating system running longer and better, helping you avoid unexpected heating repairs.
Furnace Replacement in Downey
Hoffman Heating & Air provides installation & replacement heating services in Downey, CA. We will evaluate your heating needs to ensure your new furnace will keep your home comfortable.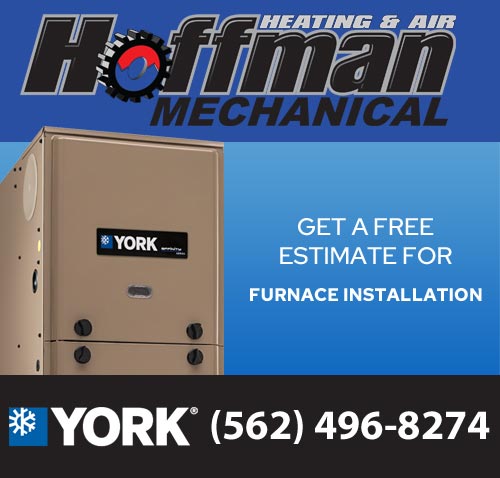 Furnace Installation in Downey, CA