Furnace Repair in Cerritos, CA
When you want quality, affordable furnace repair in Cerritos, CA call Hoffman Heating & Air. HVAC systems less than 7 years old may only need repair. Hoffman Heating & Air will identify the problem and determine a solution that best fits your need. Skilled at servicing all brands and all of our work meets local safety and building codes.
At Hoffman Heating & Air, it's our goal to be your go-to HVAC company for a furnace tune up in and we work towards that goal by providing outstanding customer service and quality furnace work. Whether you need a broken furnace fixed or just want to get a tune-up on your furnace to make it run better and more efficiently, or if it is time for a furnace replacement, we are the ones to call!
We'll help find ways to make your furnace work at peak efficiency.
Why Furnace Maintenance is Important.
Regular maintenance will keep your heating system operating at its peak performance level.
Here are some reasons you should schedule a heating maintenance tune-up:
Required by manufacturers to keep your warranty valid
Ensures your system works at an optimum level
Helps reduce your utility bills
Can prevent costly repair bills by uncovering small problems before they become expensive ones
Furnace Replacement in Cerritos
Is your furnace beyond repair? Older units can wear out or need continuous repairs. In cases such as these, we highly recommend installing a new furnace or heater. This may be more cost effective and will likely drop your heating bills quite a bit. Call Hoffman Heating & Air to learn more about the furnaces that we recommend.
Michael L. - Long Beach, CA
Hi Yelp reviewers !!! I wanted you all to know, that these guys are top notch ! I have used them about 10 years ago, when we put in forced heating. Fast forward 10 years later, and now we needed cooling ! Yes im procrastinator !
Dan is the owner and he could not be more honest , friendly and forthright !
He provided me two quotes one from a medium tier manufacturer and then a better one with another manufacturer called York.
We chose New York as the cost was not that much difference and it was suggested by Diane that it would last longer and I believe they had a better warranty.
Is installer by the name of William spent the whole day dealing with our arcane electrical system we have in our house and really worked around our family and maintain social distancing and was truly professional !
In a day and age when many contractors can be very hit and miss to say the least, when you find somebody that comes through more than once you turn to keep them and refer them to your friends and fellow reviewers !
Great company , service, and I forgot to mention how affordable they were !!!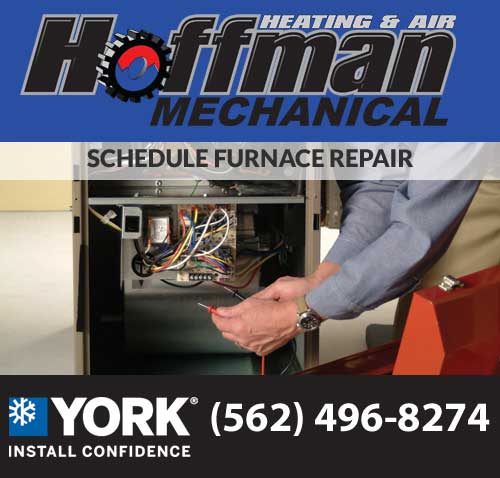 Furnace Repair in Cerritos, CA.